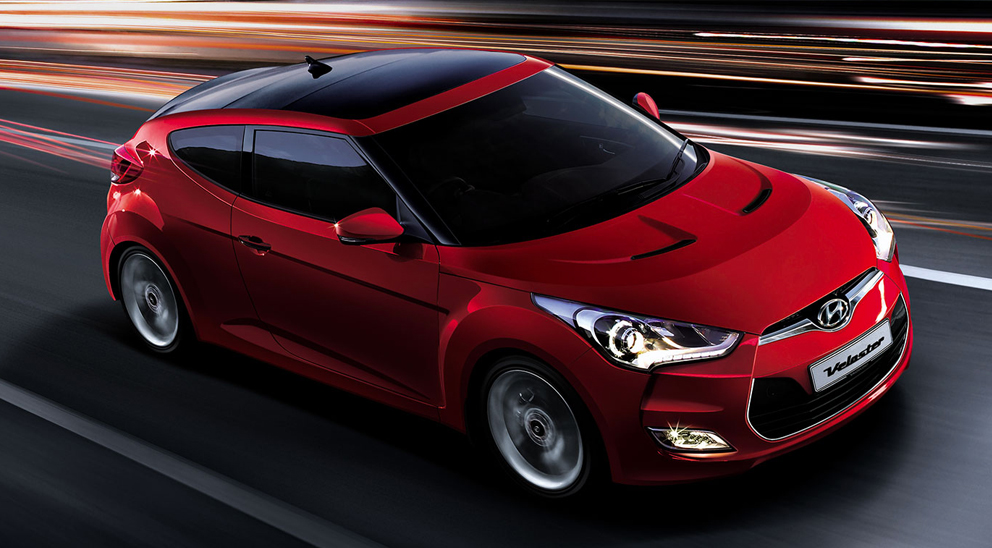 Combining a hatchback's functionality and the style of a coupe, the Hyundai Veloster is a synthesis of both vehicles, making it a car like no other. Designed with the modern driver in mind, the Veloster offers the powerful stance of a sports sedan and the practicality of a hatch, with enough room to accommodate four passengers and their luggage. Aside from its unique design and spacious interior, this sedan is fuel-efficient – perfect for everyday driving.
The Hyundai Veloster's refreshing take on urban commuting guarantees a practical and enjoyable driving experience.  Apart from its unique styling and punchy performance, below are a few more reasons why the Veloster is one of the most dynamic sedans on the market:
Exterior
Hyundai's "Fluidic Sculpture" design philosophy influenced the Veloster's exterior design, breaking new ground in design and went beyond the limits of conventional means. ] The flow continues through its muscular wheel arches and hood details, which gives this car a lower stance. This allows the Veloster to have a sense of continuous movement and balance. It is as if the car came from the future while maintaining the classic two-door look of a coupe.
Interior
With its futuristic design, the Veloster combines technology and comfort to deliver fun for its driver as well as their passengers. Surprisingly, Hyundai's designers gained inspiration from an unlikely vehicle – a sports motorbike. Invoking a sense of freedom and motion, its centre console was fashioned after a motorbike's fuel tanks while the air vents were inspired after its exhaust pipes. Its front seats boast leather wrapped bucket seats, enhancing its sporty feel while providing driving comfort. A panoramic sunroof allows for fresh air and light to bathe its passengers. The Veloster makes every drive a pleasurable one.
Safety
Armed with a 5-star ANCAP rating, the Hyundai Veloster is packed with active and passive safety features, such as 6 airbags, anti-lock braking system (ABS) with electronic brake distribution (EBD), brake assist and vehicle stability management (VSM). These can help the driver stay in control while on the road.
Performance
Thanks to its Gamma GDi all-aluminium petrol engine, the Veloster is an invigorating drive on the open road. Its 1.6-litre engine produces 103 kW of power at 6,300 rpm while churning out 166 Nm of torque at 4,850 rpm. Paired with a 6-speed manual transmission, it is perfectly tuned for Australian roads.
However, the Veloster SR Turbo is a different beast on the road. Made for speed and performance, its Gamma twin-scrolled turbocharged engine can unleash its power on-demand. The 1.6-litre air-guided turbocharger produces 150 kW of power at 6,000 rpm and 265 Nm of torque at 4,500 rpm. The engine's design reduces turbo lag during low revolutions and pumps up the power during acceleration.
The Veloster is Hyundai's answer to an innovative and practical crossover urban vehicle. It is extremely stylish yet very functional. Oozing with contemporary style, the Hyundai Veloster exudes confidence with every turn.
Are you in the market for a Hyundai Veloster in Brisbane? Look no further and visit Bartons Hyundai. They have a wide variety of Velosters for you to choose from. For enquiries, call (07) 3077 9435.